Ninja Saga Blogs
---
It's February! It's the most loved and hated Valentine's Day again very soon! Remember the nobles that visited the Village of Fire last year? It seems that the Village has earned a good reputation since then! Just a few days ago, a few ninja, who are from a really faraway place, have arrived the Village and decided to stay for the festival. One of them, Suzune, got along really well with the villagers, particularly, you…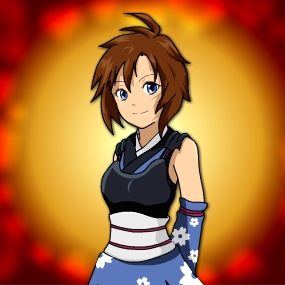 So, how do you honor your Village by serving the guests well? That's easy! Have a look at the following introduction of this sweet (or not) event!
Together with the launching of the 'Pet Villa' (ペトの部屋), this year, we again have a lot of free items ready for you to claim! Just a few steps and you'll receive them all in no time!
Introduction
Period: 8 Feb - 20 Feb (2 weeks)
Mission 1
To Do:
1. Collect 1 Love Seed
How to collect love seed? Every day you log in to the game, you receive a free love seed! Easy enough, right?
Reward:
Kumanosuke the teddy bear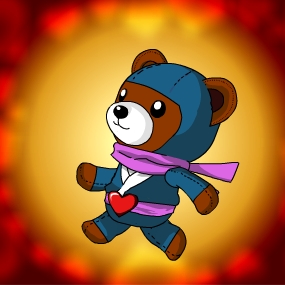 Kumanosuke is also the beloved pet of Suzune! It is summonable for ninja of all levels, so that everyone can use it to try the Pet Villa! If you are already Lv 20 and able to get a pet from the Pet Shop, please don't grumble – rewards that suit your level are coming in the later stages!
Mission 2
To Do:
1. Place any one pet to the Pet Villa, and
2. Invite a new friend to Ninja Saga.
Reward:
Charming Aura (Red) / Charming Aura (Pink) / Charming Aura (Black)
The mysterious black, the lovely pink, and the sexy red, each of them has a different effect! Which one will you pick?
Apart from the Charming Aura, you will also receive the title of Villa Tatsujin, which mean your pets can spend 50% less time in the Pet Villa than it requires during the Valentine's Day Event period!
Mission 3
To Do:
1. Look for the 4 Flowers by requesting help from your friends, and
2. Get the 10 Envelops by posting on your wall.
Reward:
Any of these 2 hairstyles!
Mission 4
To Do:
1. Train any of your pets with a skill, and
2. Collect 3 love seeds.
Reward:
Any of these 2 sets of clothes!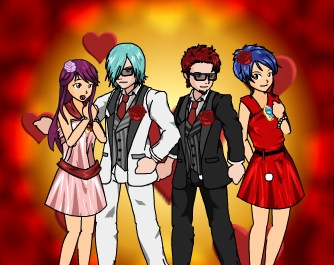 Mission 5
To Do:
1. Look for the 3 roses by requesting help from your friends, and
2. Get the 10 Gift Wrap Papers by posting on your wall.
Reward:
Kinjutsu: Advance Baku shinjutsu - Lock your target with a giant heart and put him under chaos mode for 2 turns! Geez, I hope you don't lock your real life 'target' literally, but move her by your true heart! Good luck, bros!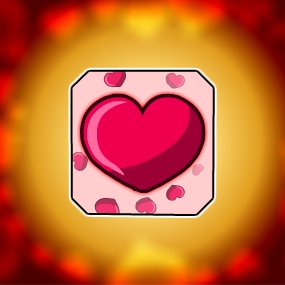 Mission 6
To Do:
1. Invite a new friend to Ninja Saga, and
2. Collect 5 more love seeds.
Reward:
Any of these 3 weapons:
Lv 20: laconic Bouquet

Lv 40: Special Bouquet

Lv 60: Fine Bouquet

Lv 80: Mystery Bouquet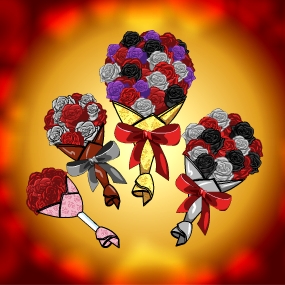 Just my two cents, pick the weapon that you can use for a long time instead the one that you can use now.
Mission 7
All you have to do is back to the game for another 2 days, that is, to collect 2 more love seeds, and you can receive all the other items that you have not chosen before!
That's all! Happy Valentine's Day!
---
Hurray! Just knocked down a really tough opponent in PvP – both of our characters are Lv80, premium, used defensive skills and Eye of Mirror, and adapted a locking combo. I bet you can totally imagine how fierce but long the battle was, and how I (and my opponent!) wanted to scream when we used scrolls / healing skills / talent to resurrect when he (or me!) was about to die! It was really a torturing, yet pleasant and exciting experience, which I suppose most of you have at least encountered once!
Now, imagine the battle just now was fought with a real friend in a private setting, and with rules established by you… Right! The long-awaited private room feature is finally here! No more "Coming Soon" sign at the golden door!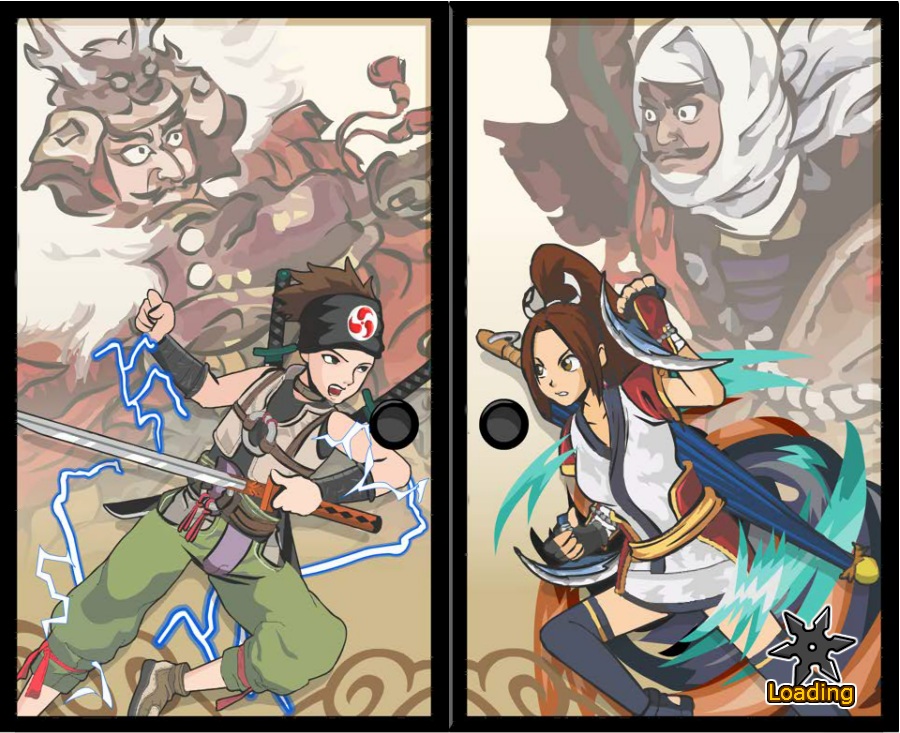 Get a Room, Fight your Friend!
PvP is one of the major components of our game, and so, we are going to release the features phase by phase! At this stage, the private room feature will be limited to premium users. Don't be upset if you are not one – you can still participate in a private battle with an invitation from a premium friend!
So, how to start with?
Create a Room (For Premium Users Only)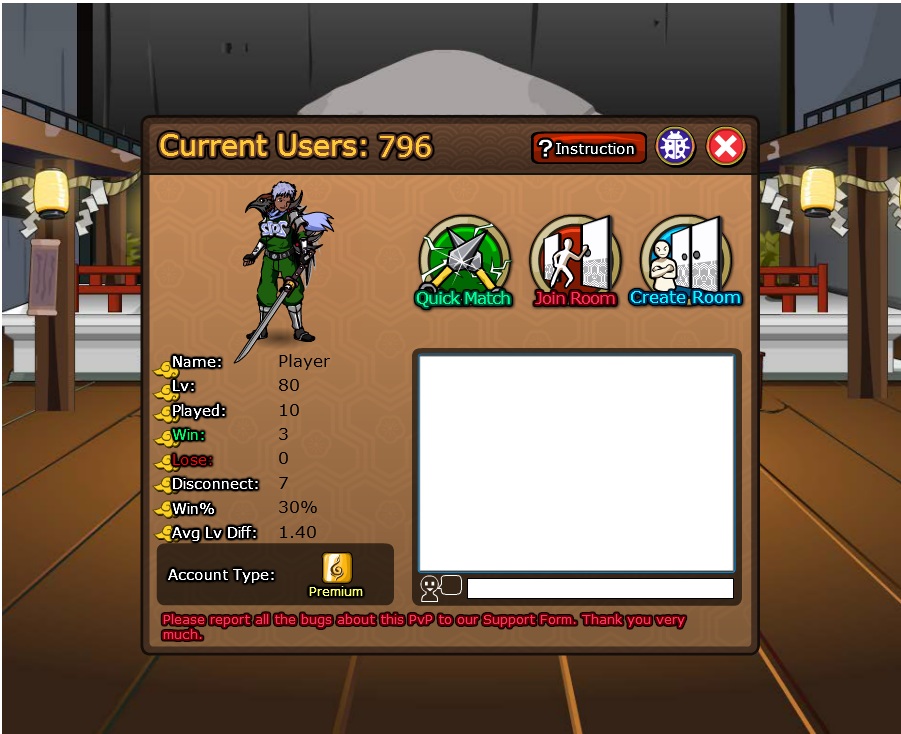 Enter Arena as you always do for PvP and check out our new lobby! Click "Create Room".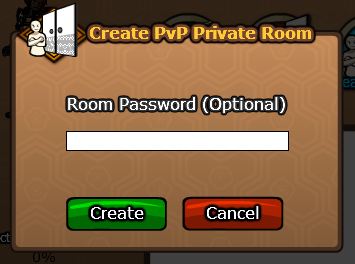 You, the room host, will be asked to set a password for your battle room.
* You can choose not to set a password, which means any users that have your room number may join your room and challenge you.
* The password should be 8-digit long, and you can only use alphabets and numbers for the combination.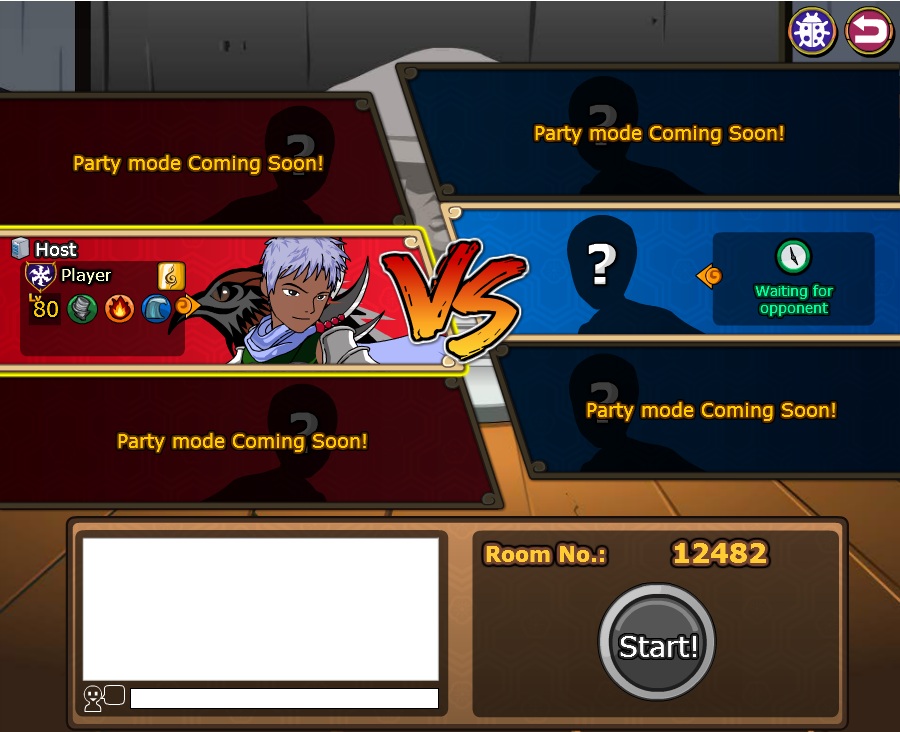 After entering a password, that's it!
Now, just give your room number and the password to the friend who you want to fight with, free or premium user. When your friend is ready, click "Start" and a private battle will start in no time!
Join a Room (For All Users)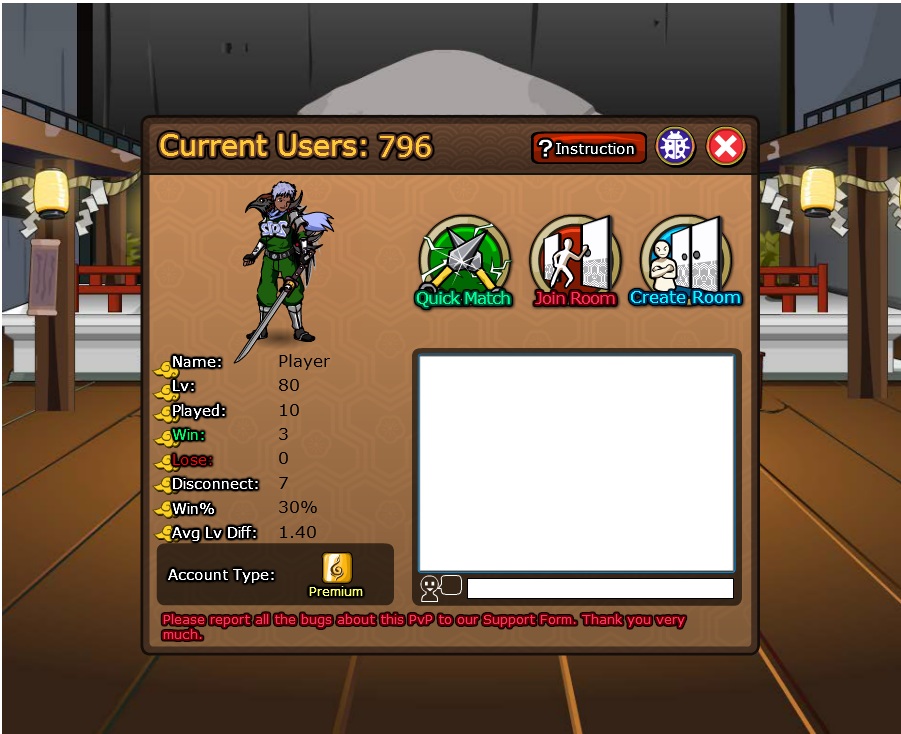 Enter Arena, and click "Join Room".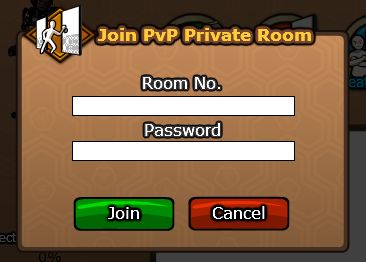 Enter the room number and the corresponding password that your friend gave you.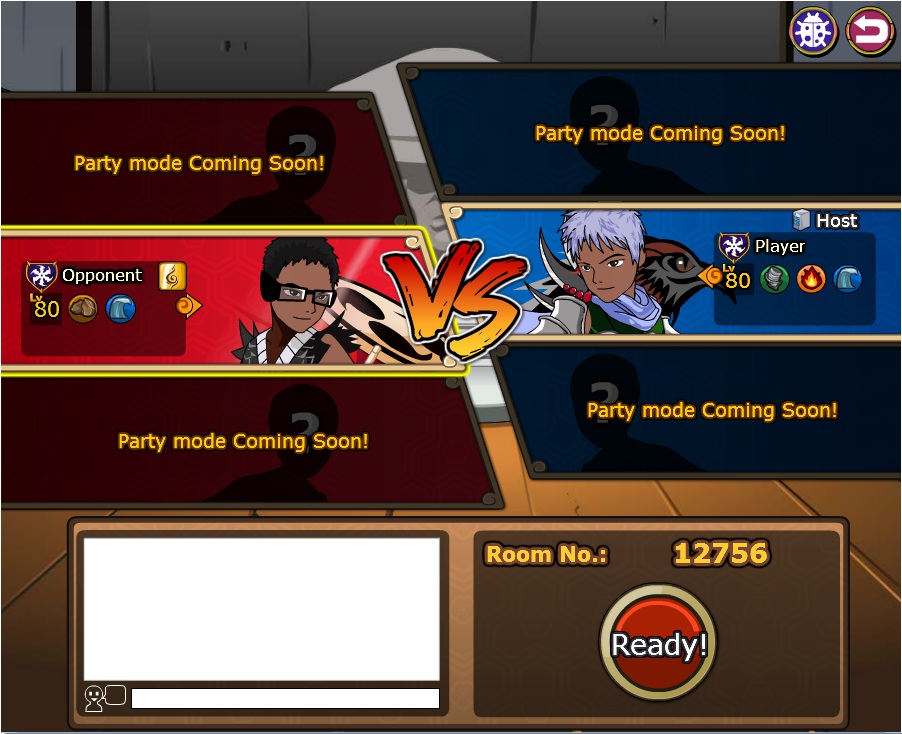 Done! Click "Ready" and wait for the host to start the battle!
Notes:
** The host can choose to kick an unwanted guest out of the room before the battle is started.
** There will be no rematch.
** The side that lost connection will lose the battle immediately.
More Features under Development!
You must have started crying and whining: Why are only premium users allowed? Why the room owner can't set limits for using scrolls? No worries! We have been receiving a lot of constructive comments and suggestions from you through different channels, and there is already a list of private room features lining up for programming and testing! They include:
Private room owned by free users,

Customized room rules such as setting scroll limits and action time limit,

Invitation via in-game notification,

Group battles, and
etc.!
Now, enjoy the fights and stay tuned for the future updates! Cheers!
---
Remember how you drilled on missions that give the most XP just to level up when you were still a genin? Remember how exciting people were during the 2010 Father Day's Event when one level was given as the mission reward? Remember how everybody leveling up their characters just to be enrolled in the tensai chunin and tensai jounin exams in time?
No need to be nostalgic anymore! The last component of the series of premium events is finally here – a free level everyday! Don't feel sad because you are already at level cap, because premium users can create up to 6 characters! If you have already got yourself a new character to apply the scroll of wisdom, this daily free level gift would definitely serve its purpose – your character will automatically train all the skills really soon!
This series of premium events is time-limited. Daily Tokens, the Secret Scroll of Wisdom, and daily level up - I am sure you don't want to miss this excellent combination to train a premium ninja!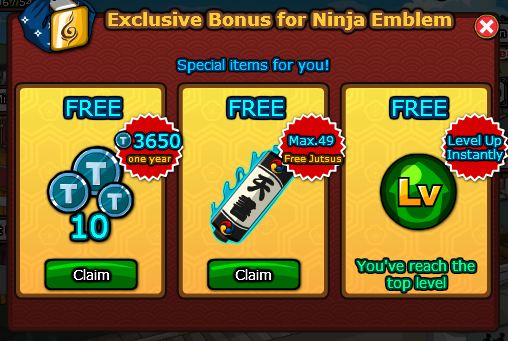 ---
So, how did you spend your daily Tokens? Here comes the second surprise for premium users – the Secret Scroll of Wisdom, a scroll that gives you one whole set of elemental jutsu, lv1 to lv80, Gold-based and Token-based! Exciting, huh?
You have been a starter, and you surely know it's not as easy as it seems to be to collect enough Gold to train skills! This premium offer is now helping you a great deal to save time – pick the element that you would like to obtain for free, even if you are still lv1, skills up to lv80 will all be given, and store for your future use!
If you are already a premium user, create a character immediately and enjoy comprehensive training with just a few clicks; if you aren't one yet, it's time to change! You never know when there will be exclusive premium items again and you surely don't want to miss those, right?
This series of premium events is time-limited! Cheers and be prepared for the last offer!
*One scroll only for each account, and each scroll can only be applied on one character.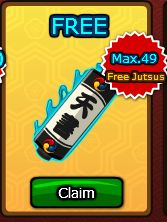 ---
In the world of Ninja Saga, you always get to enjoy privileges with a Ninja Emblem! Apart from the features such as instant training and free customization that are always here, and the recent extra daily scratch card, we are now launching a series of events, exclusively for premium users!
The first that would come is something that everybody has been asking for since day 1 – yes! FREE TOKENS! Being a premium user, you may obtain 10 Tokens for free every day!
This is just the beginning – a few more free gifts are already on their ways! Never too late to get an Emblem (not to mention that the fierce Bewitching Eyes Illusion will also be given during this period)! Cheers and keep an eye on the next exciting update!
Notes:
*This series of events for premium users is time-limited!
*The daily Tokens are not accumulative. No Tokens if you have not come back, but you will still get another 10 Tokens logging in the game on the next day.