Ninja Saga Blogs
---
Time flies and it is already July! What else do you have in mind about July except summer holiday?
Right! It is the birthday of Ninja Saga! Three years ago, the game was put on Facebook. We still remember how we kept refreshing the fan page to view the number of fans grew from single digit to thousands! If you have been in the game for long enough, you would probably have witnessed how the game started with merely a few missions and just 20 levels, while now with all sorts of other features – exam, bosses, clans, talents, PvP and many other exciting events; you might also participated in the first two anniversary events and gained some of the limited prizes!
Have a recap of the last two anniversaries, shall we?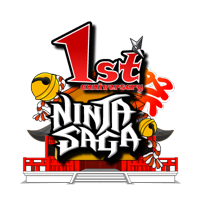 Dummy boss that dropped you a mini dummy pet, collection of ninja badges to get the matsuri set, and the lucky draw!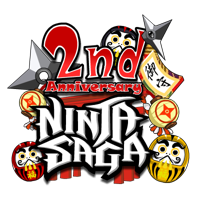 Collection of badges from a series of challenges, the Shikigami Dori boss and the arrival of the first tailed-beast, Kyubi!
So, what are we going to have this year to celebrate the third anniversary?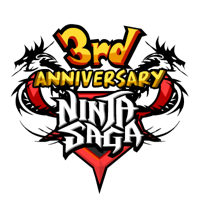 The 3rd anniversary of Ninja Saga will be consisted of 5 main parts. To celebrate, very much alike the previous two years, there will be a lot of free prizes for everyone. Some other new features will also be introduced.
Shinobi Anniversary Arena - A battle arena where you meet worldwide players & our new NPCs!
* The feature will be available from 17 July onwards.
The Arena is a place where you fight both NPCs and other players, not necessarily friends of yours though, to be on top and win prizes!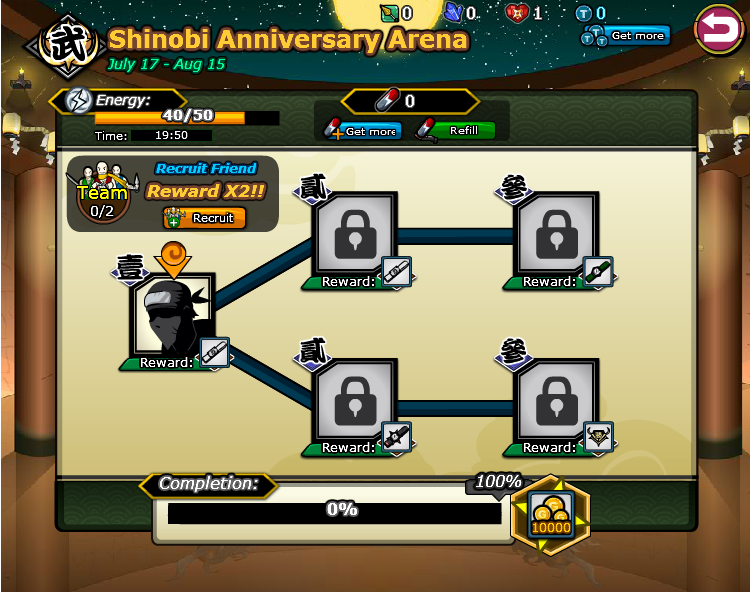 In the Arena, there are two paths to get prizes, to fight random Ninja Saga players and to fight NPCs. Victory of every battle will gain you some rare materials for claiming the special set of anniversary prizes in the Materials Market!
Battle Opponents
The path fighting other Ninja Saga players is very much a combination of the very traditional Challenge Friend feature and the exciting PvP battle. When a battle is started, the system will pick you a random player of Ninja Saga whose level is similar to your character to be your opponent. Your opponent will be controlled by AI, though, the skills and the equipments of the opponent will still be of his or her own choice. In other words, you might also be picked to fight against a player from the other side of the planet! Do prepare your characters - wear the best outfits and equip the best combo set!
On the other path are the new NPCs especially designed for this Arena – these NPCs are the elites from the Five Great Villages and they are very good at the elemental skills of their village. They drop different kinds of materials than the battles against players.
Battle Energy
To fight in Shinobi Anniversary Arena, you will need some battle energy!
Here are the required items to start the fights.
Fight against Players: 10 energy
Fight against NPCs: 10 energy + Heart of Crystal + Friendship Kunai (2nd battle only)
Everyone can have 50 energy at maximum. Don't worry if you don't have enough – energy replenishes every 20 minutes. You can also get more by purchasing it. Try to get more gift bags – you might find energy inside!
Battle Progress
As much as the battle flow diagram looks like a skill tree, it functions a little bit differently. Winning every battle will give you battle loots as well as 20% battle progress. When you reach 60%, you can either proceed, or reset it to 0% so that you may start again and focus on getting specific battle loots.
Do note that:
Battle progress will be reset after you completed all the 5 battles.

Battle progress will be automatically saved.

Battle progress will not proceed if you have not won the battle.
Battle Rewards
Every battle drops you different kind of rare materials. Claim your battle loots from the Material Market. Have a look on what you will get!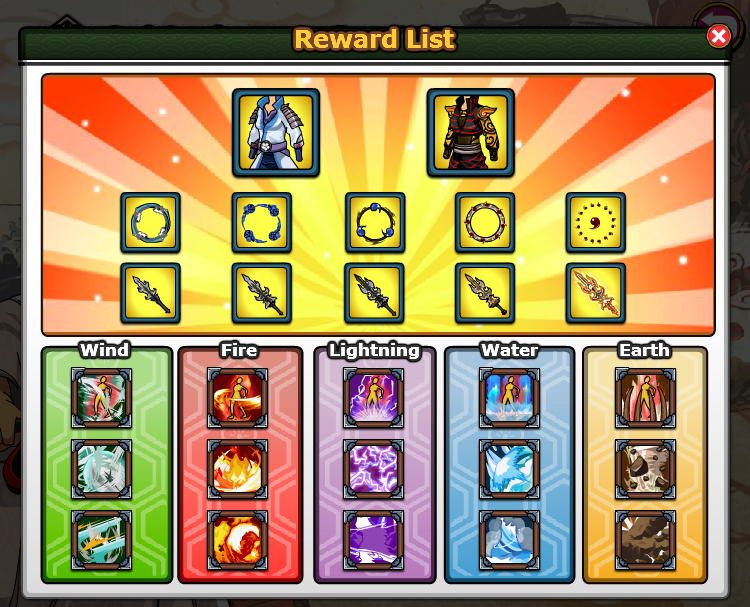 Anniversary Point - Free Items for the Big Spenders!
* The feature will be available from 24 July onwards.
How about getting free gifts by shopping? A set of rewards have been designed and are ready for the spenders! Every single Token you spend from 24 July until the end of the anniversary celebration will get you Anniversary Points. When you have certain amount of Anniversary Points, you can use them to redeem special gifts!!
How to Get & What to Get?
One Token spent = One Anniversary Point
| | |
| --- | --- |
| Anniversary Point | Prize |
| 5 | Kari Badge * 5 |
| 50 | Ninja Essence * 5 |
| 100 | Elite Forbidden Rune Medicine * 5 |
| 250 | Lava Gan * 5 |
| 500 | Secret Forbidden Rune Medicine * 5 |
| 750 | Name Change License * 5 |
| 1000 | Ninja Seal Gan * 5 |
| 2500 | 2000 TP |
| 4000 | Back item - Tailed Beast Chakra Crystal |
| 8000 | Secret Scroll of Wisdom |
| 12000 | Hair Style - Legendary Kyubi Hair |
| 15000 | Clothing - Legendary Kyubi Suit |
| 20000 | Jutsu - Kinjutsu: Takamagahara |
As you see, it does not matter if you don't have a lot to purchase because just 5 Anniversary Points are already enough to get you 5 Kari Badges!
How to View My Progress?
To view how many Anniversary Points you have during the event period, just click the Lucky Cat icon. Check frequently to see your progress!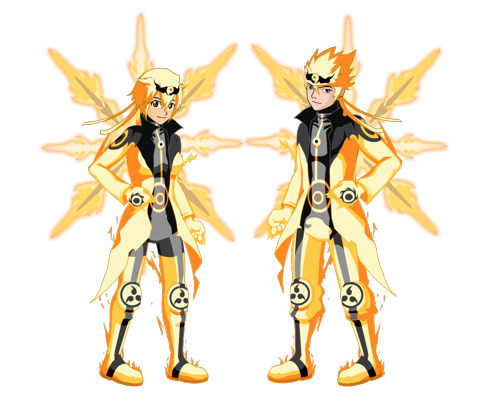 Note:
1) Every Token spending within the game, from purchasing items, Token-Gold conversion to clan creation with be counted. Donation to clan and Tokens spent on upgrade of clan buildings, though, will not be taken into account.
2) The Token spending record will not be reset after you claim a prize. In other words, after you claimed the Kari Badges for spending 5 Tokens, you need to spend only 45 more Tokens to meet the requirement to get the next item, Ninja Essence.
3) The set of gifts can only be claimed once per character.
4) The Token consumption record is counted on character basis.
Golden Scratch Card
Super grand prizes to scratch! Coming soon!
Sales!
Coming Soon!
Joint Adoption
Want to know what joint adoption is? Stay tuned on the game news!
Hope you enjoy the event! Happy Anniversary!