Game Info
PvP Instructions
Join PvP
Go to the "Arena" and choose "Live PvP".
You can enter the PvP lobby.
Lobby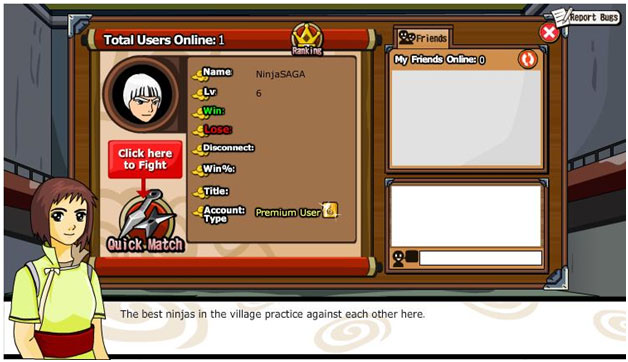 Game Interface
Total Users Online – displays the total number of online users
Name – displays the name of the avatar
Lv – indicates the player's level
Win – indicates how many times the player has won battles
Lose – indicates how many times the player has lost battles
Disconnect – indicates how many times the player has disconnected from battles
Win% – indicates the player's winning % of battles (number of won battles/ total battles)
Title – indicates the player's title
Account type – indicates whether the player uses free/ premium account
Friends – shows the player's online friends
Chat box – players can chat with others here

Quick Match
Press "Quick Match", and the system will automatically select an opponent whose level is similar to the player.
If the matching is successful, the players will be sent to the battlefield and they can start fighting.
When the player is waiting for matching, he can cancel the matching at anytime.
Waiting time varies for players of different levels, depending on how many online users are at similar level with them.
At the current moment, you cannot choose your opponent, but you may re-match with the opponent you previously fought with.
Fighting
Agility determines which player can attack first.
Players can choose to use skill or weapon to attack the opponent. Also, players can use buff skill or use item.
Players have 30 seconds to decide what kind of attack he should use each turn. If the player does not take any action after 30 seconds, his turn will be automatically passed.
The battle ends when one of the players' HP reaches 0.
The player whose HP became 0 is the loser, and the other player is the winner. They may choose to rematch or they will be sent back to the PvP lobby.
If one of the players refreshes the page or gets disconnected, the battle will automatically stop. The other player will be sent back to lobby.
Rematch
After a battle is finished, the system will let the players choose whether they want to battle again. If both players click "Yes", the battle will start again. If any of the players click "No", both players will be sent back to the lobby.